02 nov

Brand in the spotlight: An interview with founder Nasia Burnet of SUKHI rugs

F

air Friday interviewed Nasia Burnet, founder of Sukhi rugs. Sukhi sells high quality 

handmade felt ball rugs from Nepal, Patchwork rugs from Turkey, Beni Ourain carpets from Morocco and Felt and wool rugs from India. Nasia tells more about how Sukhi was founded, the materials they use and she gives a tip you want to remember.. 

Can you tell us something more about how Sukhi was founded? And we are really curious to find out what 'Sukhi' means..
' Sukhi was founded by me and Wouter Durville. The idea of bringing handmade carpets made with love, became a reality after a trip to Nepal. And that is how our business, Sukhi – which literally means 'happy' in Nepali – was born. I have studied textile design in the Netherlands and that is where my passion for the use of handmade techniques comes from. During our travel to Nepal (I would highly recommend you to visit this beautiful country), we discovered that the handicraft of felt ball rugs is truly amazing and we wanted to share this with the rest of the world!
We decided to set up two workshops in two different parts of Kathmandu. The women who work for us live within a walking distance from their workplace. Approximately half of the women make the felted balls for the felt ball rugs, and the other half make the rugs. Others handle the supervision and training. As soon as they are done with making the balls or rugs, they bring the products back to the workshop (they mostly work from their home). If you would like to see how the Sukhi felt ball rugs are made I would recommend you to watch our video.'
'We believe that the talented people who make our Sukhi rugs should have a great pay and excellent working conditions. That is why we visit our artisans regularly. We are very closely involved with every step from ordering, making and sending it to the buyer, directly from the maker.'


What makes the brand Sukhi special?
'What is crucial for us and sets us apart from other rug sellers is that our customers are purchasing directly from the makers, with no one in between and with maximum transparency.  Every rug comes with a tag that has the name of the person who made it. Customers can look up the artist's email address on our website and get in touch personally, and send for example a picture of their new rug. That way, from a small village in Morocco or Nepal, artisans can see what their creations look like in their new homes anywhere in the world. It is amazing how this job at Sukhi makes them confident and strong and how it changes their status inside the family and the community. Every rug you buy positively impacts not only one person – the artisan who crafts it for you – but also their children and extended family.'
Can you tell us something more about the sustainability of Sukhi and about the animal-friendliness of the wool you use?
'We only use 100% pure wool and the colors are achieved with chemical-free dyes. We use the highest quality materials and we never put "waste materials" or cheap fibers inside our carpets.At Sukhi, the wool that goes into our rugs is 100% new and pure, directly from New Zealand or Morocco, the lands of healthy and happy sheep!
For example, our rugs from Nepal are made from NZ wool. New Zealand wool is the purest, whitest wool in the world. It is raised with little impact on the natural landscape. It is a renewable and biodegradable fiber that is one of the world's most environmentally friendly products. The wool is produced on land mostly unsuitable for other agricultural purposes and does not compete with food production. No internationally banned pesticides are used on New Zealand farms, making New Zealand's sheep industry one of the world's greenest animal production systems.'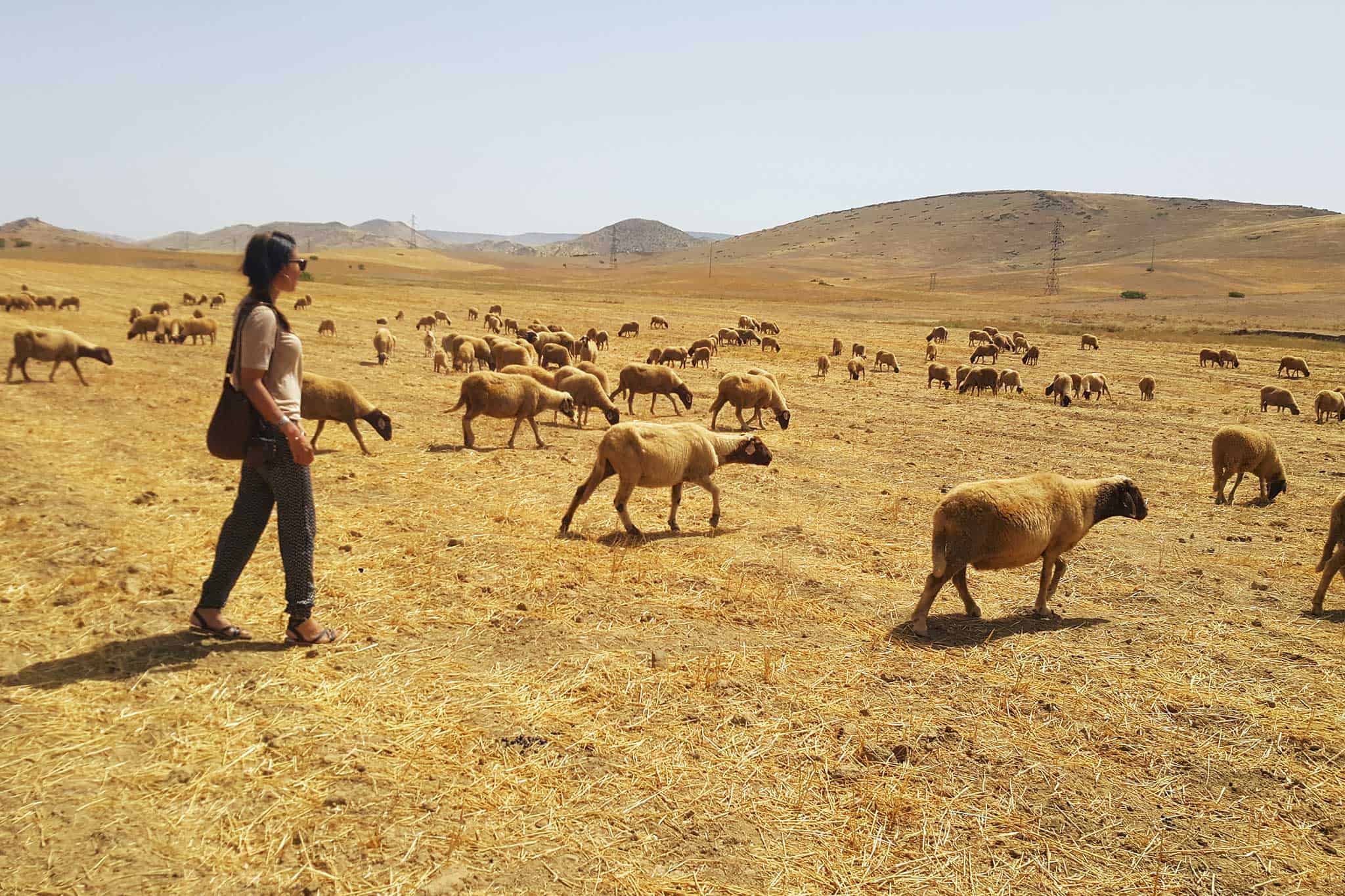 "I recently visited the sheep in Morocco, an ancient breed of sheep who give amazing natural wool that makes Beni Ourain rugs so special. They were shaved in March this year since summer is hot there , more than 49 degrees Celsius the day we visited the herds. I had the opportunity to see for themselves the enormous work that the artisans put into each Berber rug, in the local workshops. Each rug takes multiple weavers many, many days which is so impressive to see. Over a period of 12 weeks, artisans are busy threading wool and tying individual pile knots. Which results in a piece of art, which you can keep for lifetimes."
What determines the value/pricing of your rugs?
'We want as many people as possible to discover the joys of owning rugs made by our skilled artisans. We want you to be able to get a rug that you will treasure for years to come. Therefore we've eliminated the middleman. Plus, there are no warehouses or physical stores. That means we only begin to make your rugs at the moment you order it (which means it is a original piece of art, unique). This results in considerable price savings for your rug , savings we pass along to you. We work directly with the women who create our rugs. These artisans care deeply about creating unique and beautiful works of art. They are some of the best craftswomen in the world and always receive fair payment. Our goal is to bring you amazing rugs you'll love at a great price point. It's that simple!'
What are your dreams and plans for the future?
'My dream is to continue exploring new designs and handmade carpets around the world which we can share and bring to the lucky new owners and homes (with free shipping worldwide). So stay tuned :-).'
Do you have a tip for a sustainable or fair interior?
'Invest in a good, high quality handmade rug from Sukhi! apart from that, take your time to decorate your home: I had a conversation last year with a dad of a good friend of mine. His whole home is a diary. Meaning that everything you see in his house has a stry, a meaning. I find that so inspiring! Do not just buy stuff: think about it, cherish it and keep it for a lifetime. Just like our rugs.'